When You Go
BEST TIME TO VISIT
Spring for fresh First Flush tea, and mildly cool weather and Winter for clear views and cozy fireplaces
HOW TO GET THERE
Fly to Bagdogra Airport or take a train to New Jalpaiguri Station – both are in greater Siliguri. From here, by road for about 2 hours.
RECOMMENDED NUMBER OF DAYS
To fully enjoy the property 2-3 nights
TARIFF
Rs. 49,999 (all inclusive of meals, snacks, high tea, non-alcoholic) 
CONTACT
Jungpana Tea Estate, P.O. Mahanandi N.F. Railway Street, Darjeeling, 734224
Phone: +91 92 3390 4008
email: reservations@mayfair.com
mayfairhotels.com/mayfair-manor-jungpana/
Leaving aside its consummate luxury, nestled between fragrant pine, thick forest, and an accumulation of tea bushes as well as enveloped for long by its isolated location, Jungpana tea estate, now christened Mayfair Manor (the group acquired Jungpana in January 2022), offers an exclusive experience in tea tourism. There is simply no other tea garden that boasts such a confluence of natural wonders, verdant views of valleys on all sides of its august coordinates, flowing streams and seven waterfalls.
As exquisite and unique as these waterbodies are, I was most struck by sunrise. With animals stirring at dawn, one might wake up and, if so, this writer recommends going outside and taking in the view. Watching the sun slowly lift over the verdant humps of Jungpana's hills is nothing short of breathtaking.
The drive is definitely scenic, passing by Mahanadi Railway Station where Toy Train of Darjeeling Himalayan Railways (DHR) listed as a world heritage by UNESCO stops on route to Kurseong and Darjeeling.
That said, by far, the most striking way to approach the estate is on foot. With valley views that make for astounding photographs, surrounded by forest thicket, it is a stunning way to herald one's arrival at Jungpana, Darjeeling's Queen of Hills.
Later in the day, when the mist rolls in, another type of beauty can be experienced. The almost apparitional mist, its tentacles folding around visitors, is a kind of welcome that is a Darjeeling special. It's like taking a steam bath only at a cool temperature. The delicate tenderness of the feathery fog on one's face is almost like being kissed by nature. There is no other experience like it. And, it is not one that is easily forgotten. It keeps me coming back to Darjeeling, and will likely draw back visitors year-after-year.
And then there is the bungalow: restored and augmented from the original built in 1910 and once the residence of the Nepali royal family. It offers 12 exquisitely decorated and spacious suites, each named for an historical figure attached to the estate.
The original colonial style has been preserved and all the eight rooms on the top side offer an unobstructed and breathtaking view of a valley vista. Only a view of the mighty Kanchenjunga peak might provide a scenic rival.
The rooms have ample space to put one's feet up and relax. High ceilings, which are in keeping with the original design of the bungalow add to the sense of vastness in these quarters. Each room can easily can accommodate a family of three, and may be an additional member for two, with an extra bed. The decor is also colonial and comfortable, with sofas, armchairs, and desk. And of course, antique four-poster beds because anything else would be out of place here. A capacious bath and shower area comes with modern fixtures and a couch! And, all the rooms have fireplaces.
Large balconies invite you to watch the sunrise or set over the panoramic wonders that surround the property. Having a cup of freshly brewed Jungpana tea in morning while listening to birds chirping, and streams flowing, as the mist rolls in, is an experience which lifts one out the ambit of the urban and beguiles one never to want to leave!
The adornments, fittings and fixtures have been handpicked by owner Dilip Ray, and show for the attention to detail. Not to be missed it the bungalow library, grand and historical and well worth spending some time in. There is a well-equipped and clean in-door dining area, a gas fired barbeque with a gazebo attached, a modern spa, and (incredibly) a heated swimming pool (something water shortage prevents at other Darjeeling tea estates).
Kids are welcome and indoor amusements include swimming, table tennis, billiards, and a game room. The gazebos and libraries are ideal for curling up with a good book. And, the grounds are well-suited for hiking. Guests aren't allowed to peruse the gardens on their own due to the fragility of some sections and guides are sent with them. The staff, drawn from local tea workers and their family members are admirably trained at the Mayfair centres.
The afternoon tea is a not-to-miss event. Crunchy tea leaf pakoras, mushroom pate on multigrain bread with truffle oil, chicken tikka puffs and Nepali cheese diamond pastries that are part pakora part filo pastry… tarts of various kinds, home-baked cookies, and decadent squares of chocolate brownie cake. This is usually burnished sometime later with snacks from the barbeque, which include various types of kebabs, prawn, and skewered paneer and grilled veggies. You can work it off with a long walk perhaps. Tea also features prominently in the cuisine in other respects, from chai pakodas to morning eggs poached in tea.
The menu at Jungpana features traditional North Indian food such as kebabs, biryani, gobi masala and dal makhani as well as traditional Nepali fare that is light on spice and oil, and feels like a warm and hearty home-cooked meal, with many greens, light lentils, mutton, and chicken that are not heavily spiced. The Nepali option is especially attractive, since it works well in the hilly environment. Some of the sumptuous surprises include scrumptious winter delicacies like Nepali greens, broccoli, and a type of fermented cheese that is tangy and full of flavor that goes well with salad and rice.  A happy surprise is the availability of prawn imported from neighbouring Bangladesh, which tastes like it had come from one of the local streams, the border is so close. These are barbequed in the evenings as snacks or used in curries for dinner.
On offer are two packages, non-alcoholic and with alcohol. It is worth noting that there are so many kinds of tea-based mocktails on offer that if you order the former, you aren't likely to miss the latter.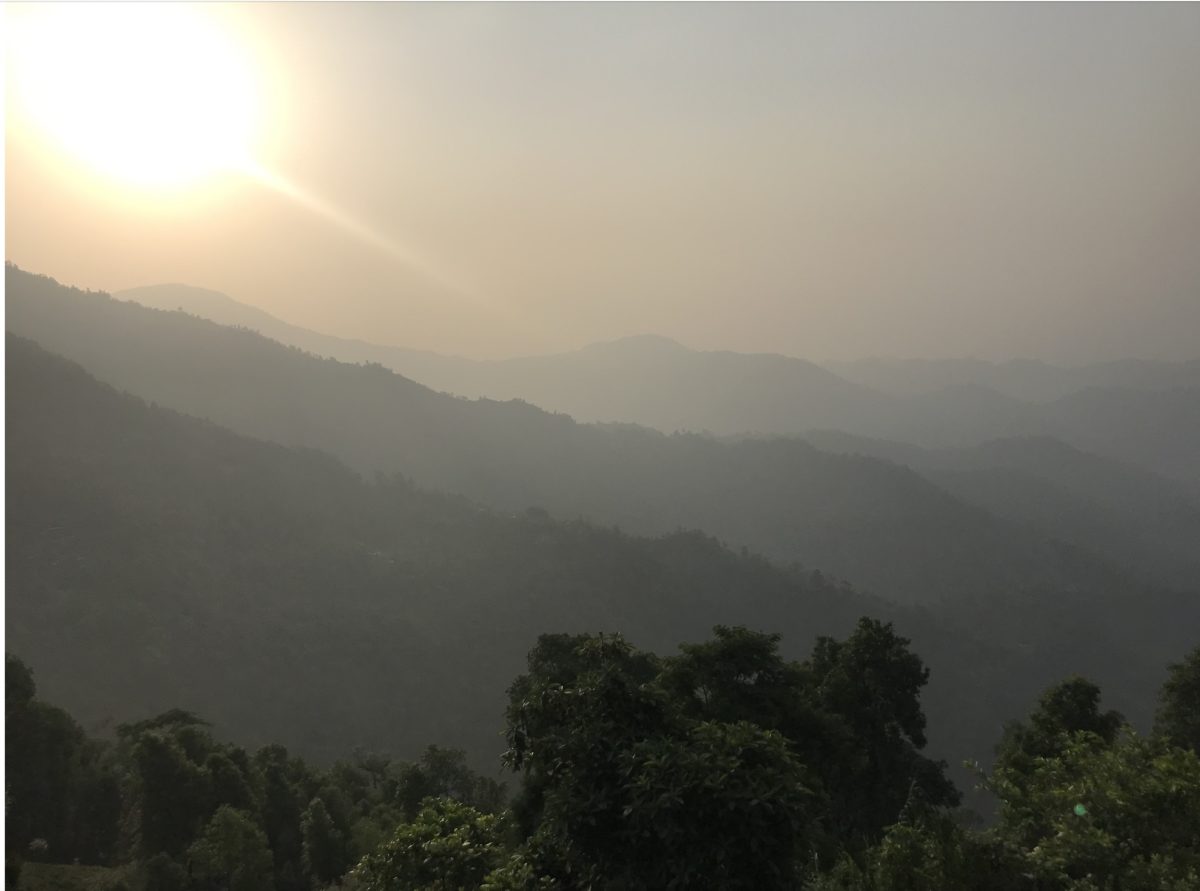 For long Jungpana has been an isolated tea garden with a narrow, gravelly snaking road leading up to the entrance to the lower part of the estate, which is at an altitude of around 3,500 ft.. The other side of the estate, the upper side, is almost impregnable, cocooned by nature and kept in pristine condition. This section is known as Mahaldiram and at one point was its own garden. Tea here is cultivated at an altitude of upwards of 6,500 ft.. Bringing the tea down is such a challenge, that it is sent down by cable car rather than other means. In prior years donkeys and ponies were used to bring down the tea. The upper garden is home to the most exclusive cultivars, which are marketed at the highest prices. The high-altitude teas grown here have a bold flavour with honeyed notes. They fill the mouth and upper palate, and the aftertaste lingers on the tongue. 
The garden, itself, spans 400 acres (160 hectares) at altitudes of 3,300 to 6,600 ft. (1000-2000 m).  It was somewhat neglected in the time it changed hands from its previous owners to Mayfair. The new owners revitalised the plants, with organic fertiliser and widespread irrigation. The factory has been modernised. While innovating and upgrading their facilities at a feverish pace, Jungpana has been careful to maintain its heritage. Located a short walk of about a half kilometer from the resort, one of the first landmarks that is visible at the front of the factory is a 100 year old generator, restored and kept for inspection as a kind of museum piece. 
The factory has its own fountain and each area is labelled so guests taking a tour will easily understand where they are and what activity is being done in each segment. One of the highlights of the facility is the 'Tea Experience Room", which is a large boardroom with a counter at one end for tasting. 
What makes Jungpana an indulgence is its location. It's far from many things. One cannot visit a neighbouring town or city without making a long trip requiring a 4-wheel drive vehicle, and the distractions of urban life are absent whether, televisions, internet connections and even a reliable phone network. Not that one is completely cut off, but it takes some work to find an area where cell service and emails work, and you may wonder if its worth the trouble when you can enjoy being liberated from the disturbances of urban life.
PS: One issue worth noting: roadwork is being planned after monsoons to make the roads safer. Until then, it is recommended to use a 4×4 vehicle to approach and descend from Jungpana. (Our 2-wheel drive Innova slipped backward down a ridge on the way back, and had the driver not managed regain control, a serious accident could have occurred.) This is something which guests may want to arrange themselves.
Featured image shows the main building and some rooms. Photo by SB Veda.