"One of the best things about this book is Mariëlla's consideration for the reader getting the best possible experience. Indeed, she advises on how to use the book to suit the tea pairing path you're on. This book is the culmination of a decade of research, tasting, and testing countless teas and dishes and how they work together. But more than that, this is a book designed for us. For you. For the chef or restauranteur. Whichever angle one comes to tea service and pairing from, this book has something for you."  – Kyle Whittington
Listen to the Review
A Clear and Colorful, Highly Usable Cookbook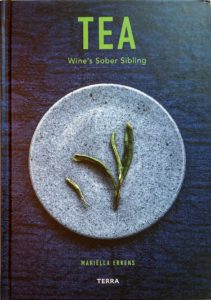 This book is the culmination of a decade of research, tasting, and testing countless teas and dishes and how they work together. But more than that, this is a book designed for us. For you. For the chef or restauranteur. Whichever angle one comes to tea service and pairing from, this book has something for you.
Rich with detailed analysis and mouth-watering recipes, the considerate arrangement of this book draws us in from a place more familiar, the pairing of wine with food. Indeed, the comparison tables on tea and grape varieties (pages 18-25) were so enriching that I realized that as a wine novice, I could choose a wine based on my tea preferences. If that's got me excited, then for sure, it works the other way around.
Clearly deeply researched and thoroughly tested, the chapters nonetheless remain very readable and easy to digest and understand, from water to brewing, service, and the methodology of tasting and pairing. Tables of notes combine with flavor wheels packed with usable and useful information (pages 57 & 248-249). Accessible even. With chapters devoted to the pairing of tea and cheese, tea and chocolate, and tea mixology, there's something here for everyone. Not to be missed is Mariella's cold brew tea extract that can be lengthened either hot or cold for an instant tea (pages 35-37). Throughout, the presentation is clear, colorful, and highly usable.
And, of course, there are the recipes, which account for nearly half the book and make this a book equally worthy of a place on our tea bookshelf as among the cookery books in the kitchen. Recipes to serve with tea and recipes using tea as an ingredient are sumptuously illustrated and mouthwatering to read. Each recipe comes with three suggested pairings: the easy and accessible, a bit more sophisticated, and the "oooh fancy" choice. As well as the recipes and their pairings, there are tables organized by food type (pages 256-273), which aid in finding pairings for your recipes.
These sections, in particular, and the book overall, have been carefully put together for us tea nerds and with the hospitality industry clearly in mind too. From recommendations on brewing and serving tea in different settings to resources that enable anyone with this book to put together a proper tea menu based on the food, they're serving. This book should not just be on our shelves but on the shelves of every business serving tea on their menu. A resource for everyone from novices to tea nerds to the professional chef!
TeaBookClub
TeaBookClub is an international group of tea lovers and readers who meet up virtually every month to discuss the tea books we read. My book reviews combine my thoughts and those of TeaBookClub members. Here's what TeaBookClub members thought:
"This a really good explanation of the similarities between teas and wines." – Chrissie, UK
"I liked how she gave the reader options for reading." – Michaela, Austria.
"I thought Mariëlla did a really good job of explaining the basics of tea to someone who doesn't know." – Terri, USA
"I'm looking forward to experimenting with many recipes and cocktails." – Taraya, Canada
Look Inside the Book
Buy the Book
Tea: Wine's Sober Sibling by Mariëlla Erkens
Lannoo Publishers | $50 | 292 Pages
Dec. 20, 2022 | Hardcover | 7 x 9.5 in
Goodreads | Hot Soup | Barnes & Noble | Amazon