Mennä ONE | Control Tea Flavor and Intensity
The versatile Mennä ONE traveler is a double-walled vessel with a unique twist-ring that closes the infuser basket from outside the bottle. Users sip their tea through the lockable lid and when the tea is just right, they close the infuser basket to maintain desired intensity. The infuser keeps tea hot or cold for up to six hours. Inventor Orit Eisenberg writes that "infusing tea can be messy and this simplifies the process. It keeps everything clean. No wet tea bags or loose tea on the counter. No straining needed. No waiting to remove your tea bag or loose tea. And the biggest bonus? The flexibility of re-steeping once you're done."
$40 | www.mennalife.com
Ember Travel Mug²
The Ember Travel Mug² is designed to be used on-the-go. It does more than simply keep your coffee hot. Our smart mug allows you to set an exact drinking temperature and keeps it there for up to 3 hours, so your coffee is never too hot, or too cold. Easy to clean, handwash. The leak-proof lid is dishwater safe. Submersible up to 1 meter in water. Capacity: 12 fl. oz (355 ml). Includes charging coaster.
$179.95, 12-oz. (black only) | www.ember.com
GoSun Brew | Solar Powered Tea Traveler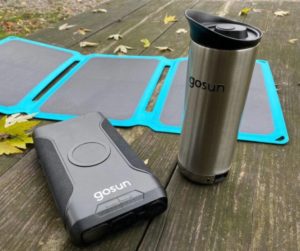 This stainless steel cup, french press & heater in one, lets you make tea or coffee anywhere. A powerbank stores the energy needed to power the mug. The powerbank can also charge other small devices, like laptops and phones. | Capacity 12 oz. | 2.75″ w x 8.75″ t | 1 lb | 8′ charging cable | 130w | Power input 15v DC, DB-14 connector.
$65 + $25 Carry Case | $165 Lithium Battery Powerbank | www.gosun.co
Zens Lifestyle Mobile Moon Travel Set
Friends don't let friends drink hotel-room tea. Serious tea drinkers want to ensure their beverage of choice is always available, even on leisure or business journeys. Help them tea-travel in style with the elegantly designed Mobile Moon set includes a double-walled teapot, a lid with filter, two double-walled cups, and a hard-shell travel case that comes in several colors, including classic Zen black.
$49.90 | www.zenslifestyle.com

Chicago Vacuum Insulated Tea Infuser Travel Bottle
Executed in matte black, this infuser/travel bottle. designed by Canadian company Grosche is not only a sophisticated gift choice — it gives givers an opportunity to give back. Every bottle sold provides 50 days of safe drinking water for people in places where that is scarce or nonexistent. The bottle is double insulated, and will keep tea hot for 12 hours or cold for 24. The fine mesh infuser twists closed, keeping leaves from spilling out.
$29.99 | grosche.ca
Tea Traveler Upside Down Tea Brewer
This tea brewer will keep his tea either hot or cold for up to six hours, has a removable filter for easy steeping of loose leaf tea (and simple cleaning), and the pop-up lid has a lock to prevent spills.
$39.95 | www.saje.com
Libres Make Great Gifts
It's a unique, healthy, and inspired gift you'll be proud to give. Customers say that having a few "in the cupboard" makes unexpected giving easy! They are perfect gifts for teachers, babysitters, Girl Guide leaders, piano teachers… Constructed with a borosilicate glass interior. Durable BPA-free poly exterior protects the glass. The stainless steel filter is removable.
$24.26 | 14 oz | 420ml | 8.75″ tall x 3″ diameter | Gift sets from $65 – $135 | www.libretea.com
The Tea Spot | Urban Tea Tumbler
The Urban Tea Tumbler shows off your classy, glassy tea infusions whether you like it hot or chilled. Its precision infuser can keep on steeping, or be removed when teas are steeped to perfection. Constructed of borosilicate glass, brushed stainless steel, and accented with cork, this tumbler is a harmonious blend of natural beauty and sophisticated style. Now available in the Galaxy design. This prismatic experience is created through a high-voltage finish on the stainless steel lids, resulting in a unique array of colors that range from golden yellow to vivacious violet.
$31.95 | 16 oz | www.theteaspot.com