Blue skies and nice weather mean it's time to gather your family and friends for some backyard fun. Hosting a barbeque can be daunting, but this year you have a secret weapon in your apron pocket, tea. Tea makes everything taste better, from spice rubs and bbq sauce to desserts. Follow this guide to learn how to host the ultimate tea-themed bbq. 
Step 1: Tea Rubs, Marinades & Sauces
Grilling can be quick and easy, but if you want to pack in tons of flavor or turn a tough piece of meat into a juicy, tender slice of heaven, you must invest some time and love into your main dishes. This is where tea really comes in handy because the tannins in tea help tenderize and flavor meat. Adding ground-up tea to your spiced dry rubs or favorite marinades will produce succulent dishes that have layers of depth and flavor. 
When organizing a bbq, prepare your rubs, marinades, and sauces a day ahead to give your main dishes plenty of time to absorb that extra flavor. The trick to making the perfect bbq sauce is to cook it the day before. This gives it time to settle and soften, allowing all the separate flavors to harmonize. 
Tea Spiced Dry Rubs Lock in The Flavor
A dry spice rub serves two purposes. It enhances flavor and helps produce a gorgeous crispy sear that bbq aficionados obsess over. In fact, some may argue that dry spice rubs are the only way to go when it comes to barbecuing. 
A dry rub includes salt, spices, and a sweetener, such as brown or white sugar. Using loose-leaf tea and blitzing it into a fine or coarse powder with a spice grinder is best. Dry rub blends are easy to assemble ahead of time and can be kept in a sealed container or bag for several months in the refrigerator. 
Delicate cuts of meat or seafood and vegetables can be cooked right after seasoning. Larger or tougher pieces of meat should be placed in an airtight container and refrigerated for several hours or, ideally, overnight so they can absorb as much of the flavor as possible. 
While any tea can be used for rubs, look for ones with a natural smokey flavor or vegetal, earthy notes that pair well with meat and vegetables. Some of the best teas for spice rubs are
Lapsang Souchong — a Chinese black tea that's smoked over pine needles. It has a smokey, piney flavor with hints of smoked paprika and sweet longan fruit.
Gunpowder Tea —

this green tea from China has earthy, smokey, and vegetal elements that make it great for rubs.

Assam —

 A bold black tea from India, Assam's malty, nutty, and woodsy notes help enhance the caramelized flavors you get from grilling
For baby back ribs, Cynthia Gold uses bold black tea like Assam or Darjeeling in her spice rub. When making the perfect side dish, mix some Lapsang Souchong and Korean red pepper for a spicy, smokey hit that compliments the sweetness of grilled vegetables. 
Gunpowder green tea is traditionally used in North Africa to make mint tea. Try rubbing lamb shoulder chops or leg steaks with a North African Mint tea spice rub to impart the smokey, minty, and spicy flavors of a bedouin camp to your dish. 
North African Mint Tea Spice Rub
This North African inspired spice rub uses Gunpowder green tea, dried mint and a variety of spices to create fragrant dishes that will transport you to a Bedouin camp on a starry night.
Equipment
1 Food Processor or Spice Grinder
Materials
1

tbs

Gunpowder Green Tea

1

tbs

Dried Mint Leaves

1

tsp

Kosher Salt

2

tsp

Ground Cumin

1

tsp

Sweet Paprika

1.5

tsp

Ground Coriander

1

tsp

Ground Ginger

1

tsp

Cayenne Pepper

1.5

tsp

Black Pepper

.5

tsp

Ground Turmeric

2

tsp

Ground Cinnamon

2

tsp

Garlic Clove

Minced
Instructions
Add all of the ingredients to a food processor or spice grinder and blend until well combined

Store in an air-tight container or jar
Notes
This spice mix goes great with most meats and seafood, but it's especially good when paired with lamb. Add a tablespoon of cane sugar if you wish to create a carmelized sear on your meat dishes. Be aware that the sugar will burn at high temperatures.
Tea Marinades Make Your Job Easier
Tea marinades are perfect for making tough or dry cuts of meat extra tender and juicy. They also pack a big punch in flavor and make great additions to sauces. For a marinade to really work its magic, meat should rest in it for six to twenty-four hours, but seafood only needs fifteen to thirty minutes. 
The components of a good marinade are
Acid (citrus, wine, or vinegar)

Fat (olive oil or vegetable oil)

Aromatics (herbs, garlic, and spices)

Salt (regular salt, fish sauce, or soy sauce)
The tannins in tea act as an acid by breaking down the connective tissue in proteins. When using tea as a marinade, make a stronger, more concentrated brew to help impart more flavor. You can also add a sweet element if you wish to produce a caramelized sear on your dish while grilling. 
When choosing a tea for a marinade, think of how its flavors will pair with whatever meat or seafood you're using. The floral notes of Jasmine tea go well with seafood. While in the American South, sweet tea is a popular marinade for all kinds of meat dishes. This Sweet Tea Grilled Chicken recipe produces gorgeous caramelized pieces of juicy chicken.
In South East Asia, fermented tea leaves impart a tangy brightness to grilled seafood. Grilled prawns marinated in fermented tea leaves make the perfect topping for a zesty cabbage slaw. 
Tea Creates a Complex & Captivating BBQ Sauce
A good bbq sauce is a thing of true beauty. When that perfect mouthwatering balance of sweetness, acid, salt, and spice is achieved, you're compelled to go back for more, again and again. Adding tea to your homemade sauce will give it an aromatic and flavorful complexity that borders on sorcery.
Looking to impart a smokey flavor to your bbq sauce without resorting to liquid smoke? Lapsang Souchong is perfect for that. A good Masala Chai tea will add layers of ginger, cardamom, cinnamon, and clove to make an incredibly delicious and highly addictive Chai Tea bbq sauce.
Masala Chai Tea BBQ Sauce
This recipe combines the rich aromatic flavors of Garam Masala and Chai Tea to create a deliciously complex and highly addictive bbq sauce. Slather it on wings, pulled pork or anything else you can think of.
Equipment
1 Med Saucepan

1 Chef's Knife

1 Cutting Board

1 Blender or Immersion Blender

1 Lg Jar or Glass Container with Lid

1 Small Saucepan

1 Fine Mesh Strainer
Ingredients
3

tbs

Masala Chai Tea

Use a good loose leaf Chai Tea

1

cup

Water

1

tbs

Olive Oil

1

lg

Yellow Onion

Diced

4

cloves

Garlic

Minced

1

tbs

Chili Powder

1

tbs

Coriander Powder

1

tbs

Tumeric Powder

1

tbs

Smoked Paprika

1

tbs

Cumin Powder

Reserve until the end

1

tbs

Kosher Salt

2

tbs

Tomato paste

2

tsp

Black Pepper

1

28oz

Can of Whole or Crushed Roma Tomatoes

1/2

cup

Dark Brown Sugar

1/4

cup

Apple Cider Vinegar
Instructions
Brew Tea Concentrate
Bring 1 cup of water to a boil and add 3 tablespoons of loose leaf Chai tea

Simmer the Chai tea for 5 minutes and then strain into a bowl using a fine mesh strainer
Make Sauce
Heat a medium saucepan over medium heat and then add a tablespoon of olive oil

Add in the diced onion and a pich of salt. Saute for about 15 minutes until the onions soften and start to carmelize

Add in the minced garlic and another pinch of salt. Saute for another 5 minutes

Add in the turmeric, chili powder, coriander, smoked paprika, and black pepper. Stir for 2 minutes until the onions and garlic are evenly coated

Add in the tomato paste and stir for 5 minutes until the edges of the pan turn a metallic orange color

Add the can of tomatoes with their juices, water, the rest of the salt, and the Chai tea concentrate. Bring to a boil

Let the sauce simmer for 5 minutes, then add the brown sugar. Stir until it dissolves

Simmer the sauce for 10 more minutes, stirring occasionally until it reaches your desired thickness

Add in the apple cider vinegar and simmer for 2 more minutes then turn off the heat

Add in the cumin and taste. Adjust for seasoning as needed.

Allow sauce to cool before transfering it to a blender and beldning until smooth. If using an immersion blender you can blend the sauce directly in the pan until it's smooth.

Once cooled store the sauce in glass jars or containers with air tight lids and refrigerate. Sauce will keep for up to 2 weeks in the refridgerator
Notes
Adding the cumin at the end, after the sauce is finished cooking, brings out the sweet smokiness of the cumin. When added at the beginning, the cumin becomes overcooked and tastes bitter and earthy. 
This sauce makes an excellent marinade, glaze or dip. 
Step 2: Grilling, Barbecuing & Smoking
Grilling, barbecuing, and smoking are three different cooking techniques done on the same equipment. Despite their differences, tea can be used in all three methods to enhance flavor, provide a crispy sear or help make a tough cut of meat extra tender. Applying a tea-flavored bbq sauce at the end of the cooking process will produce an enticing charred glaze effect. 
Grilling
To grill something means to cook it quickly over high heat and a direct flame. The best cuts of meat for grilling are those that are already naturally tender and smaller such as lamb shoulder chops, ribeye steaks, and short loin cuts. Tea-spiced rubs work serious magic when grilling by helping create flavorful crusts that lock in moisture. If using a rub or marinade containing sugar, honey, or molasses, be mindful that the sugar will start to burn at around 265 F or 130 C. 
Barbecuing
Barbecuing is cooking over low heat for a longer period of time and usually involves larger pieces of meat. The tougher cuts are perfect for barbequing because they require more time and less heat to break down the connective tissue of the protein properly before they start to fall apart easily. While tea-spiced rubs work great for this as well, tea marinades and brines* are extra helpful when it comes to cuts of meat like pork shoulder and brisket because the tannins in the tea will also help tenderize the meat and cut down the cooking time.
*A brine uses salt to lock in moisture to drier cuts of meat, while a marinade relies on acid to break down the protein.
 

Smoking

Smoking meat takes the longest because rather than using the flames from a gas or charcoal grill, you're actually using smoldering chunks of wood chips to cook the meat. Cynthia Gold uses the time-saving technique of a tea brine to help tenderize and flavor her tea-smoked pork loin. 

Smoking with tea leaves also works great on smaller cuts of meat or seafood and doesn't require a grill. Try smoking some salmon with black tea leaves and adding the flaked pieces to a traditional potato salad to make a delicious side dish that might steal the show. 

In case the weather takes a turn for the worse, this recipe for peach tea smoked pork creates succulent pieces of fork-tender pulled pork that rivals anything done in a traditional backyard smoker. 
Step 3: Side Dishes & Desserts
After you've started preparing your proteins, it's time to turn to your side dishes and desserts. Don't underestimate the importance of these two components. The acidic brightness of a simple salad or coleslaw revitalizes tastebuds that have been hammered by the heavy flavors of the grill. And the sweetness of a dessert will help soothe a palate that's been galvanized by too much spice.  
Tea-Infused Side Dishes That Create Balance
Celebrate the beauty of summer's bounty by selecting produce at the peak of ripeness. It doesn't get easier than mixing an assortment of farm-fresh vegetables with some tea-spice rub and olive oil and tossing them on the grill for a bit.
A great way to jazz up fresh corn is to slather on some Genmaicha Green Tea butter after it's been grilled. The nutty, toasty flavors of Genmaicha tea mixed with a bit of smoked paprika are the perfect accompaniment to the sweetness of grilled corn. 
Genmaicha Green Tea Compound Butter
The earthy, toasted nut flavors of Genmaich green tea blend beautifully with the sweetness of smoked paprika to form a compound butter that's delicious on grilled corn, veggies, and savory scones.
Equipment
1 Mortar and Pestle

Or a Spice or Coffee Grinder

1 Large Mixing Bowl

1 Spatula

Parchment Paper or Plastic Wrap

1 Tea Infuser
Ingredients
1

pound

Unsalted Butter

Room temperture or softenend

5

tsp

Good Quality Genmaicha Tea

loose leaf

1

tbs

Smoked Paprika

2

tsp

Kosher Salt

4

cloves

Garlic

minced

1/2

cup

water
Instructions
Brew Tea
Bring water to a boil and add 2 teaspoons of Genmaicha tea into the infuser

Remove the infuser and allow the tea to cool
Make Compound Butter
Using a mortar and pestle crush the remaining 3 teaspoons of Genmaicha tea. If usin a spice grinder, gently pusle the tea until it's broken into smaller bits. You don't want a fine powder

Add crushed tea to the mixing bowl along with the Kosher salt, smoked paprika and minced garlic. Give it a stir

Add in 1 pound of the softened unsalted butter and 3 tablespoons of the concentrated tea. Stir vigorously until all of the ingredients are well combined

Scoop the compound butter onto two pieces of parchment paper or plastic wrap, shape into logs and twist the ends to seal

Chill in the refrigerator for 2 hours until firm

Slice the compound butter into discs and serve them on top of grilled corn, veggies or savory scones
Notes
The Genmaicha Green Tea compound butter will last in the fridge for up to a month. After that, it's best to freeze it. 
Tea makes an excellent addition to salad dressing as well. The fermented tang of kombucha tea is a flavorful substitute for vinegar in a salad dressing with maple syrup and Dijon mustard. Your guests will love and appreciate how each bite complements the next. 
Satisfying Tea Desserts That Are Light & Full of Flavor
At the end of a heavy and boldly flavored meal, it's best to end on a lighter note. Light doesn't have to mean boring, though. These tea desserts are refreshing, satisfying, and full of flavor. Plus, if you choose to use caffeinated teas in your desserts, they'll have the added benefit of perking up your guests up and avoiding a post-bbq nap. 
Nothing says summertime fun like homemade tea popsicles. You can use any tea you like and control the sweetener you mix in. Just be sure to brew your tea extra concentrated because the flavors will be muted a bit once frozen. Add blended fruit, yogurt, or tapioca pearls to the mix for more texture and excitement. 
Before you shut down your bbq for the night, toss some fresh peaches, nectarines, or plums in a bit of olive oil and place them on the grill. Cook them until the sugars start to carmelize, and they develop grill marks. Once done, top them with a delicious Earl Grey Tea simple syrup and a dollop of mascarpone cheese for a tantalizing grilled dessert. 
Earl Grey Simple Syrup
Earl Grey tea infused into a simple syrup makes a great addition to cocktails and desserts.
Equipment
1 Small Saucepan

1 Infuser or Fine Mesh Strainer

1 Glass Jar or Container with a Lid
Materials
2

tbs

Good Quality Earl Grey Loose Leaf Tea

1

cup

Water

1

cup

Natural Sugar Cane

unrefined sugar
Instructions
Bring water to a simmer in a small saucepan

Stir in sugar cane until it dissolves

Add in 2 tbs of Earl Grey Tea

Remove the pan from heat and allow the tea to steep for up to 10 minutes

Remove tea infuser or strain out the tea leaves with a fine mesh strainer and set aside to cool

Once cooled, store the simple syrup in an air tight glass jar or container in the refrigerator for up to a month
Notes
You want to steep the tea for longer than normal because this is a concentrated simple syrup. This same recipe can be made with any tea you like. 
If you've always wanted to make your own ice cream but don't own an ice cream maker, this simple No Churn Jasmine Tea ice cream recipe is beautifully floral and creamy. You can infuse your cream or plant-based milk mixture with any tea you like to make a variety of delectable and refreshing ice cream flavors. 
Step 4: Thirst-Quenching Iced Teas
There's nothing better on a hot summer's day than a refreshing glass of ice-cold tea. No barbeque could be complete without a pitcher (or several pitchers).
There used to be just two kinds of iced tea, sweet or unsweetened. However, with the popularity of herbal teas, exciting tea blends, and cold brewing, iced tea has become an art form. No longer an afterthought, these exciting and delicious recipes will help your guests stay refreshed, hydrated, and energized all party long. 
Cold Brew vs. Regular Brew
It might seem like everyone's obsessed with cold brewing, but it's not just a marketing gimmick. Cold brewing
Produces a smoother, less astringent,  and less bitter flavor

Preserves more of the tea leaf's antioxidants and Vitamin C

Reduces the amount of caffeine by half

Results in a smoother, more well-rounded texture
While any tea can technically be cold brewed, not all varietals open completely in cold water, leading to muted flavors. Certain black teas, Pu'ers, and oolongs really do need to be brewed in hot water to enjoy the full expression of their flavor profile. Some of the best varietals for cold brewing are
Japanese Green Tea

High Mountain Oolongs 

Baozhong

Oriental Beauty

White Tea
To cold brew tea, you let the leaves steep in a pitcher or jar of filtered water in the refrigerator for six to twelve hours. Be sure to cover the jar or pitcher tightly to stop your tea from tasting like the contents of your fridge. Cold brewing does require a bit more tea than hot brewing, about 1.5 teaspoons of loose-leaf tea for every 8oz of water. 
Some of the most common complaints about hot brewed iced tea are that it tastes diluted, too bitter, and astringent. The best way to avoid these pitfalls is by planning ahead. Brew your tea early in the day or the day before. Once it's steeped to your liking, strain out the leaves and allow the tea to cool down completely before putting it in the refrigerator. This also prevents the tea from turning cloudy when you try to cool off hot tea rapidly. With cold and hot brewed ice tea, make it a bit stronger than you would normally drink to account for the ice added later. 
Sweet Tea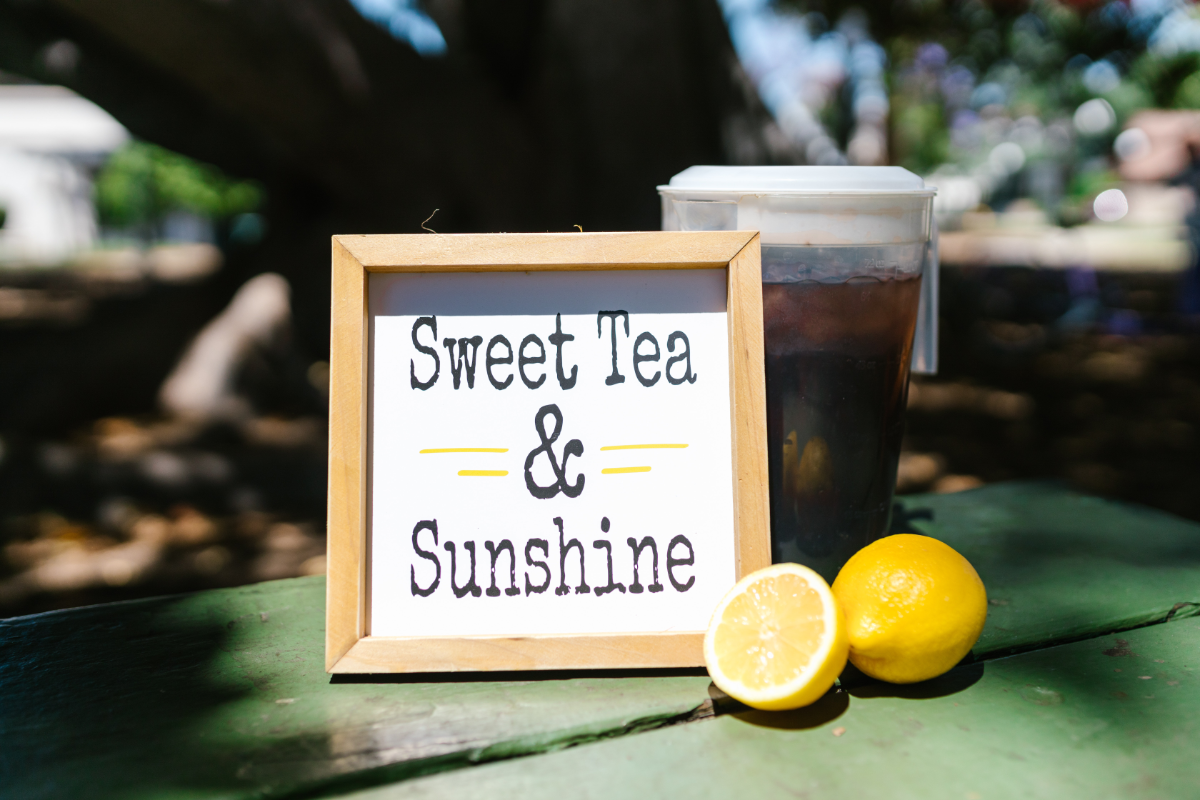 If you've ever experienced bbq in the American South, then you know there's only one kind of iced tea on the menu: sweet tea. Sweet tea is as ubiquitous in the southern states as milky tea is in the UK. It's used in countless recipes for bbq marinades, sauces, and desserts. Truthfully, nothing quite hits the spot on a hot, humid day like a cold glass of sweet tea. 
If you or your guests want to cut back on refined sugar, you can offer several natural alternatives. Agave syrup (made from the Agave cactus) and honey are good for adding sweetness without causing massive spikes in blood sugar levels. Coconut sugar, maple syrup, blackstrap molasses, and palm sugar all have the added benefits of additional nutrients and slightly fewer calories than refined sugar but have distinct flavors. 
Give your guests options by serving unsweetened iced teas and providing an array of simple syrups for them to choose from. All you have to do is heat up equal parts water and whichever sweetener you're using, then stir until it dissolves. Once cooled, place the syrups in labeled squeeze bottles or small containers with pour spouts.
Naturally Cooling Herbal Teas
Certain flavors and plants contain naturally cooling elements. Herbal ice teas are a great way to help your guests stay cool and refreshed while tackling their third helping of hot wings. 
Hibiscus, also known as Jamaica or Roselle 

Mint

Lemongrass

Cucumber

Lemon balm

Lavender

Rose
All of these have cooling properties and taste great. You can make a pitcher of lavender Arnold Palmers by brewing lavender black tea and combing it with homemade lemonade. Cucumber and lemongrass look beautiful in a pitcher while soothing and hydrating.
You can buy tisane tea blends that contain these flavors or make your own. My favorite go-to herbal tea on a hot day is a mix of dried mint leaves and whole hibiscus flowers, which has a revitalizing zing that really helps cool the body down. 
Spiked Iced Tea
For those guests who like to imbibe something stronger, spiked iced teas are tasty, fun, and easy to make. Sweet tea mixed with vodka is a backyard cookout staple but gin, rum, bourbon, and even tequila all make great additions. 
While living and bartending in Savannah, GA, I learned the hard way that mint juleps are incredibly delicious and dangerously potent. So I perfected a mint julep recipe that adds iced black tea to the mix to help prolong the fun. Serve your adult guests a pitcher of Sweet D Tea for a guaranteed good time. 
Sweet D Tea (Black Tea Mint Julep)
Sweet, minty and delicious! This new twist on a classic mint julep adds iced black tea to create a bourbon cocktail that's refreshing and perfect for all day sipping.
Equipment
1 Iced Tea Pitcher

1 Small Sauce Pan

1 Spoon

1 Fine Mesh Strainer

1 Jar or Glass Container with Lid

12 Highball Glasses
Materials
3

Bunches

Fresh Mint

Washed and Destemmed (reserve a few mint sprigs for garnish)

30

Oz

Good Bourbon

Maker's Mark, Bullet, Buffolo Trace

5

Cups

Water

1

Cup

Demerara Sugar

4

Heaping Teaspoons

Good Loose Leaf Black Tea

Assam, Darjeeling, or Ceylon

Ice
Instructions
Brew Tea
Boil 4 cups of water (save remaining 1 cup of water for the mint simple syrup)

Add 4 heaping teaspoons of good quality loose leaf black tea to a reusable tea bag or infuser.

Allow the tea to steep for 3 to 5 minutes

Remove the tea leaves and allow the tea to cool completly
Make Mint Simple Syrup
Heat the remaining 1 cup of water in a small saucepan

Add 1 cup of Demerara sugar and stir until the sugar dissolves. Remove the syrup from the heat and set aside

Add in 2 bunches of destemmed whole mint leaves (about 1 cup tightly packed leaves). Do not chop or crush the mint leaves. Cover the pan with a lid and allow the syrup to infuse for 1 hour

Using a fine mesh strainer, strain out the mint leaves and transfer the simple syurp to a glass jar or container and refrigerate
Assemble the Cocktail
Using a glass or plastic iced tea pitcher, take the remaining bunch of destemmed mint leaves and slap them between your hands to release their essential oils. Then add them to the bottom of the pitcher

Pour in 2/3 of the mint simple syrup, 30oz of the bourbon, and 4 cups of the cooled black tea

Give the mixture a stir and taste to see if it needs the remianing simple syrup

Fill highball glasses with ice and top them off with the Sweet D Tea mixture. Garnish with mint sprigs and enjoy
Notes
Adding whole mint leaves to the simple syrup at the end and letting them infuse for an hour before straining them out will stop the leaves from turning black and making the syrup bitter. 
Tea Makes Everything Better
Spending time outdoors grilling with your friends and family is what summer is all about. Whether you do all the cooking yourself or tell everyone to bring their favorite tea-inspired dish, you're sure to have a good time. So when the sun is shining, grab a refreshing pitcher of iced tea and light the barbie!