Santa's helpers span the globe bringing him nifty ideas for stuffing those millions of stockings. Here is a selection sure to please. – Santa Dan
This practical tea journal is the perfect companion on your journey through the word of tea. On 40 pages, you can quickly and easily record your thoughts during a tea tasting. Due to its clear design, the journal is suitable for tea novices and professionals. | A5 format
12.90 € | www.teerausch.de/
Sip & dream in the magic of the charming Nutcracker & enchanting Organic Sugar Plum Fairy. Ingredients Nutcracker: Black tea, hazelnut, vanilla natural flavors. Offering the superior flavor and aroma of whole-leaf teas with the convenience of a tea bag, our silken pyramid cradles the finest teas, herbs, and spices.
$4.60 CAD | ca.tealeaves.com
Inspired by the fun of assembling your own masterpiece, Paula created these 300-piece picture puzzles titled A Chai Wallah's Shop, Taiwanese Tea Pluckers, and Winter Comfort. Three different TEA puzzles for your family's enjoyment or a tea lover's gift. The Chai Wallah's Shop with recipes, Taiwanese Tea Pluckers, and the 1929 ad Winter Comfort resplendent with pets, plants, books, chocolates, cozy winter wrap, and a fantastic tea set on a howling, blizzardy day.  All ready for you to put together, have some fun with a friend and that hot cup of tea or poured over ice.
$25 | www.paulawinchester.com/tea-jigsaw-puzzles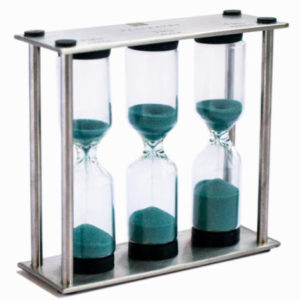 Never over-steep your tea with this sand timer custom-created for Tea Leaves. Create a perfectly steeped cup of tea with this engaging sand timer.
$21 CAD | ca.tealeaves.com
Never worry about stuck boba balls again. This metal reusable boba straw from Boba Guys is the perfect size for tapioca pearls and comes with a matching brush for easy cleaning. Stuff this into your boba lover's Christmas stocking and watch them open it with glee on Christmas morning.
$5 | www.bobaguys.com
Celebrate the holidays while resting your tea bags on this festive fine bone china tea bag tidy from Sophie Allport. Fans of loose-leaf tea can also use the tidy to set their strainers on between infusions. Just 10 cm tall, it fits perfectly into any Christmas stocking.
$15 | www.sophieallport.com
The 'original' green tea mints make the best stocking stuffers. Made with organic matcha, each flavor is sugar-free and freshens breath naturally. The variety pack comes with six deliciously refreshing flavors:
Original Green Tea
Tropical Mango
Pink Dragon Fruit
Moroccan Mint
Bombay Chai
Yuzu Ginger
$23.95 (each canister contains 60 mints) | www.senchanaturals.com