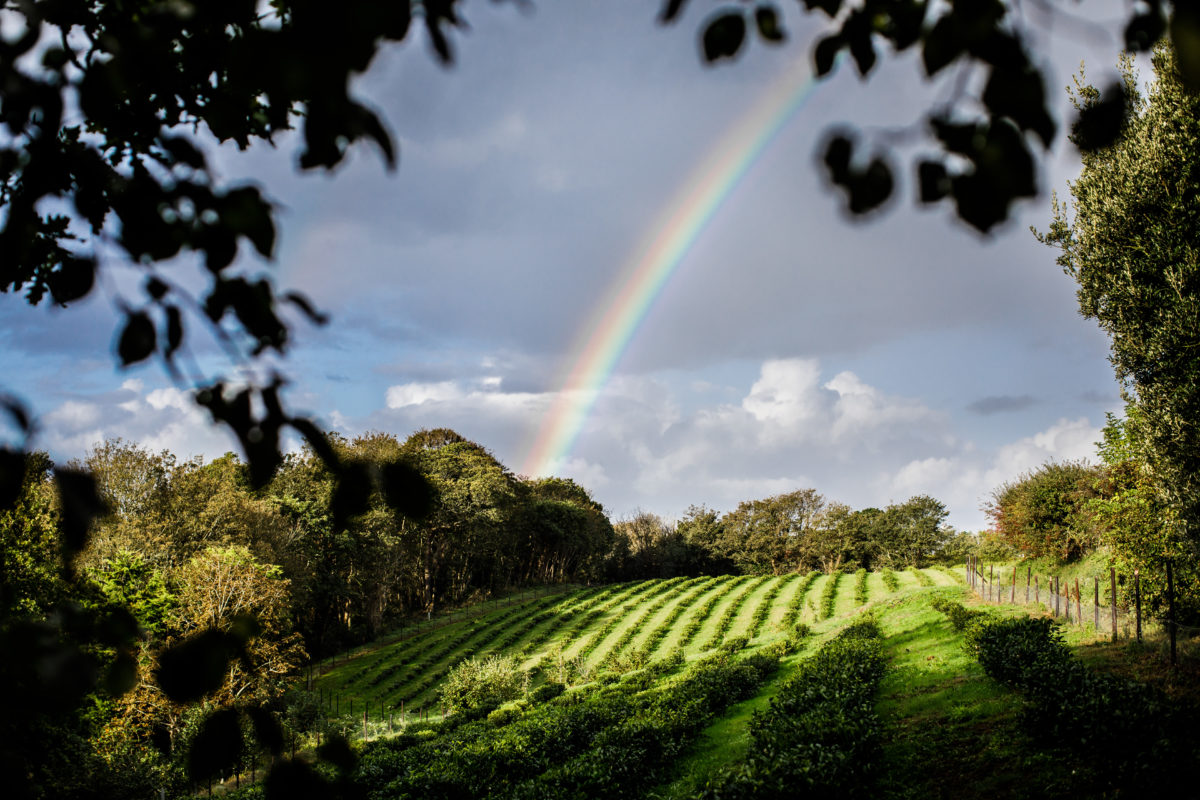 It began with the last word in potatoes. Discovered in 1878, the Royal Jersey Fluke potato variety made the island of Jersey the potato equivalent of Darjeeling tea. The Royal Jersey Fluke proved to be so exceptional that it was even granted a Protected Designation of Origin (PDO). And thus, Jersey became known not only for its woolens and charming dark-eyed cows, but also for its potatoes.
The next step forward is Jersey Fine Tea.
Jersey is one of the insular pearls scattered across the English Channel, right next to Guernsey, where Victor Hugo wrote Les Misérables. Thirty kilometers away from the Norman French coast, Jersey and Guernsey served as a port of call for Irish Saints on their way to evangelize Brittany and Normandy during the early Middle Ages. The "-ey" ending of the islands' names is reminiscent of their likely Viking origin: "ey" is thought to be a contraction of "eyland", which means "island" in old Norwegian, the Vikings' language.
During the 10th century, Jersey and Guernsey were brought under the jurisdiction of the Duchy of Normandy and therefore becomed French. But two centuries later, while Normandy remains a French territory, both islands are back into the fold of the British monarchy as bailiwicks, which allows them to remain politically autonomous.
Scotland's role in creating a new tea terroir
Robert and Charles Bruce, Robert Fortune, Archibald Campbell: you might remember the names of these figures who played a central role in the creation of the first Indian tea plantations during the 19th century.
In 2015, a BBC4 broadcast on Scottish tea plantations helped shape a strange notion in the minds of Jersey's potato producers: could tea grow on their island? The Jersey Royal Company cooperative, created 15 years ago, and incorporated into the British agricultural Produce Investment Group in 2014, is actively seeking to diversify its product range and to benefit from state subventions destined to Jersey-based, promising and eco-responsible agricultural projects.
If tea grows in the cold of Scotland, why would it not also under Jersey's milder sky?
With its 1,800 hectares of soil, the Jersey Royal is spoilt for choice when it comes to deciding where to plant tea. The islands' acid soil (pH value 5,5), is perfect for the tea plant to grow. Thanks to the Gulf Stream, Jersey winters are mild, without any risk of frost, while summers are moderately warm (around 20° Celsius) but still sunny. The island's high humidity (from 78 to 93%) also provides ideal conditions for the tea plants to thrive. The only cloud (not) on the horizon would be low rainfall levels (around 880 millimeters per year), when tea plants need at least 1200 mm per year. Yet an irrigation system will easily triumph over this obstacle. Financing the project will also went smoothly: there are plenty of subventions, and the British investors involved in the cooperative will support the farm until it generates a profit. One of the first tea plantations ever created on one of the Channel's islands is finally able to take form.
One last loose end to tie: the plantation needs a mentor to guide the potato planters from the Jersey Royal along this adventurous path. And who is better suited to the task than Nigel Melican, with his 30 years of experience in all aspects of the tea industry?
Let there be Jersey Tea!
The ideal spot for the plantation is at the heart of the island, away from the sandy shores and strong Southwest prevailing winds. The future tea planters selected three sheltered plots: two are former potato fields, while the last was used for pasture. The tea gardens-to-be each receive a name: Mrs. Pipon, Simpson (from the owners' names) and Gorey Hill. The plots are slightly sloping and overhang the sea from 54 to 128 meters, which will help draining the soil. They are also facing South, therefore allowing the tea plants to be exposed to a maximum amount of sunlight.
In 2017, 7,438 Georgian tea plants imported from Scotland and Holland are planted on the three plots, on a total surface of five acres. The rows are planted from East to West to maximize the tea plants' exposure to the sun. Alas, the Georgian variety does not adjust very well to the Jersey soil. Nigel Melican, whom the planters consult on planting and farming techniques and business development, suggests using seeds from a Nepalese cultivar. In 2019, 3,000 seeds from Nepal are placed in a tree nursery, and in 2020, some of them are ready to be transplanted into the tea gardens. The planters then import 3,000 new seeds for the nursery. They will stay there from 12 to 18 months before being transplanted in the gardens.
Finding harmony between a tea terroir and tea seeds, but also using durable agricultural techniques: the Jersey planters take these aspects of their project at heart, and bear in mind one crucial dimension of their plantation, namely that it is located on an island. Indeed, the young tea plants require large quantities of nitrogen. Using it under the form of a concentrate allows the farmers to order fewer cans, while still supplying the tea plants with what they need to survive.
Besides, the tea plants are fed organic products, used in minimal quantities.
The main threat against tea on the island is the presence of rodents. A hundred kilometers further South, in France, roe deer chose the tea plant as their favorite dish, but in Jersey rats and rabbits treat themselves with the tender tea stalks growing on Mrs. Pipon, Simpson and Gorey Hill. Several tea plants are lost. Jersey, not content with being a paradise for rats and rabbits, also accommodates moles who doggedly dig their tunnels in the three gardens' soil. The young tea plants have trouble spreading their roots, as the "architecture" of the subsoil constantly changes. They also grow more slowly. That is the price you must pay for preserving biodiversity!
Jersey Fine Team
Thanks to Nigel Melican, Jersey Fine Tea calls in an American specialist, Alicia Gentili, to become the plantation's project manager and tea maker. Alicia, who had worked in different sectors of the tea industry, finally found her calling when becoming a tea maker in an American plantation in Oregon: Minto Island Tea. Alicia left the United States to settle in Jersey and put her expertise at the disposal of Jersey Fine Tea.
Another key to success on an island where tea drinkers are accustomed to tea bags with milk is Eunice Pallot, tea consultant and head of marketing at Jersey Fine Tea. Eunice is Scottish. After working in the wine industry, she came to tea in her thirties while working in London, where she discovered that tea, just like wine, reflects its own terroir. When first arriving in Jersey, Eunice opened an online tea shop. She joined Jersey Fine Tea last year when the first tea harvest was put on the market.
To complement this team, the farm hired Lucyna Gaziorek as a field manager. This tireless worker spent several years in tree nurseries where she gained an in-depth knowledge of plants. She is also a Jersey lover and the island and has visited regularly since 2003. She started working for the Jersey Royal in 2019. After helping Alicia during the first harvest, she became passionate about tea and accepted to stay at the farm as a field manager in early 2020.
Last but not least, Solenne Federici joined the team in March 2021. She is yet another proof that wine and tea are closely connected! Hired as an assistant tea maker, Solenne is French and built all her career in the wine industry. She recently developed a passion for tea, which made her change path and join the European plantations' new adventure.
Chronicle of a successful inaugural year
Spring
March 2020: the weather is cool. The tea plants are still dormant. This month is dedicated to cleaning the gardens, setting the irrigation system, and reaping the fields.
April 2020: as temperatures slowly rise, young tea tips start to appear. The picking can begin: only the tip and two young leaves are picked, which amounts to 500g up to 1kg of tea collected every two or three days. A tiny quantity, yet so precious!
Alicia remembers how excited and anxious she felt when it was time to process the first tea harvest. She had no fixed guidelines in mind: her deep knowledge of different tea varieties and the young tips themselves inspired her. It was a very intuitive process.
The first teas Alicia processed in Spring 2020 were a green tea, and a white tea. The white tea includes the tip and the first leaf. In theory, it is one of the simplest teas to obtain, but in reality, it is the most difficult to actually pull off. The leaves were left to wither in an environment providing temperature stability, then left to dry. The results exceeded Alicia's expectations by far: a very nice tea reminiscent of a "summer meadow, lilies, seductive."
The green tea Alicia processed following Chinese methods includes the tip and the first two leaves. The picking took place early in the morning. After a few hours of withering, the leaves were seared in a wok for a few minutes, in order to stop the oxidizing process. The leaves were then left on a cooling table and finally put in the oven to dry. The result is a green tea with large "twisty" leaves and "creamy, sweet pea and reviving notes". Tea expert Will Battle, in the second edition of The World Tea Encyclopedia, mentions its "sappy sweetness recalling the green Mao Jian tea of Hunan, whilst the black balances elements of Keemun perfume with a malty note." For tea blogger Geoffrey Norman, a.k.a. @lazyliteratus, this green tea is unique, and reminds him of "sweet green beans, roasted dates, and honey-lathered chestnuts," a wonderful "smooth honey sweetness that translated into a leafy/floral middle, but went back to that smooth sweetness."
Summer
The picking goes on. The long-awaited Chinese machines finally arrive in July, just in time to start processing the black teas: the tea leaves have matured enough to try this new process. The picking takes place in the afternoon, and the leaves are left to wither all night. The next day, the leaves are rolled, then put in an oxidizing machine – or "giant dough prover", as Alicia says – for a few hours, before being dried. The result is an exquisite black tea, described as "smooth, malty, complex", so complex that one could never guess that it was processed from tea plants that young. Acclaimed British food critic Andrew Jefford thus described this first Jersey black tea: "Fine, dark long twists – very attractive fresh sweet floral scents in the packet: clean, characterful and appetizing. Flowers and hop-kettle fruits – fresh, sweet, pristine, warming, creamy and faintly malty scents in the liquor … very attractive – soft, tender, very gently flavored but full of charm and poise. Subtle, sweetly, fragrant black tea with a high-latitude tenderness to it. Impressive." While according to Geoffrey Norman, "The liquor brewed up rather light, which was more in line with expectations for a long-leaf black. The palette was a lighter shade of copper with a 'menthol cigar wrapping' aroma. (…) The flavor echoed the aromatic presentation. This tasted like a Taiwanese black tea. Very close to echoing the wild-eyed notes of Shan Cha, specifically. Earthenware pottery, mint, malt, and aromatic resinous wood all came to mind as well."
Autumn
The last harvest takes place in mid-October. As temperatures cooled the tea plants become dormant for a few months. Jersey Fine Team looks after them walking up and down the plots one or twice a week, just to make sure that everything is fine. A generous harvest year is over: on average, 1.5 kg to 3.5 kg of tea leaves were collected per harvest, for a total 15kg of processed tea with 500g to 1 kg processed at a time.
New Year 2021
As the new year begins Solenne begins her work. The first harvest is mid-April. The Simpson garden welcomes 2,500 new tea plants, while 500 other plants will soon arrive to replace those that the rodents ate. The team's objective is to produce 150kg of tea.
Developing new teas, but also being present in Jersey's restaurants (European Michelin-starred restaurants will undoubtedly show their interest), collaborating with companies such as distilleries or kombucha breweries: Jersey Fine Tea has multiple projects all lined up. The plantation aims at playing a key role in developing local tourism through agritourism activities, garden visits, tea tasting sessions and formations.
This will also allow Jersey Fine Tea to create direct and indirect jobs locally, and to help tea lovers find their calling. It is an ambitious project, with an amazing team supporting it. We will surely hear about this tea farm in the years to come, beyond the frame of the tea industry. Without a doubt, a great tea terroir is born on this small island of the English Channel.