Roy Fong's latest edition of his classic book tells more tales
The new edition of Roy Fong's classic book, The Great Teas of China, is far more than a reprint. As Fong points out in the preface, not only has the tea industry in China changed dramatically in the 10 years since the first edition was published, but, inspired by input from readers around the world, he include more information about water, teaware, and the brewing process.
The newest edition is filled with personal stories and anecdotes about a lifetime immersed in tea culture.
Tea Journey spoke with Fong about his life, the impact of the pandemic on his teahouses in San Francisco and Berkeley, and what he sees as trends in the world of tea.
Fong's family, as he put it, "had nothing to do with the tea industry." But he recalled that, at age 6, while unenthusiastically walking to school, he would linger at a food stand where day laborers were making gongfu cha. Sometimes someone would offer him a cup, and he never forgot the wonderful aroma and taste.
At 13, his family emigrated from Hong Kong to the U.S. He did not return to Hong Kong until he was 21, but his month-long stay there set the course for the rest of his life.
"I caught an aroma and followed it into a tea shop, where the owner was doing his own roasting (to enhance the longevity and complexity of oolong tea)," said Fong. The rest of his time was spent going from tea shop to tea shop, tasting, and asking questions.
By 1993, he had been importing and selling Chinese teas for the restaurant trade for several years. He knew there was little knowledge among non-Asian-Americans about the best ways to prepare teas. "When I started talking about using water that was not boiling, people looked at me like I was from outer space," he chuckled. Others would say things like, "I'd love to drink more green tea, but it's so bitter."
So Fong took a big risk and opened the first Imperial Tea Court in San Francisco's Chinatown, later relocating to the Ferry Building. He offered tea tastings for $3. He began to offer classes in gongfu cha, telling participants, "I have a different version of tea flavors for you to keep an open mind about." The business grew, added dim sum service, and was joined by a sister location in Berkeley's "Gourmet Ghetto" in 2005.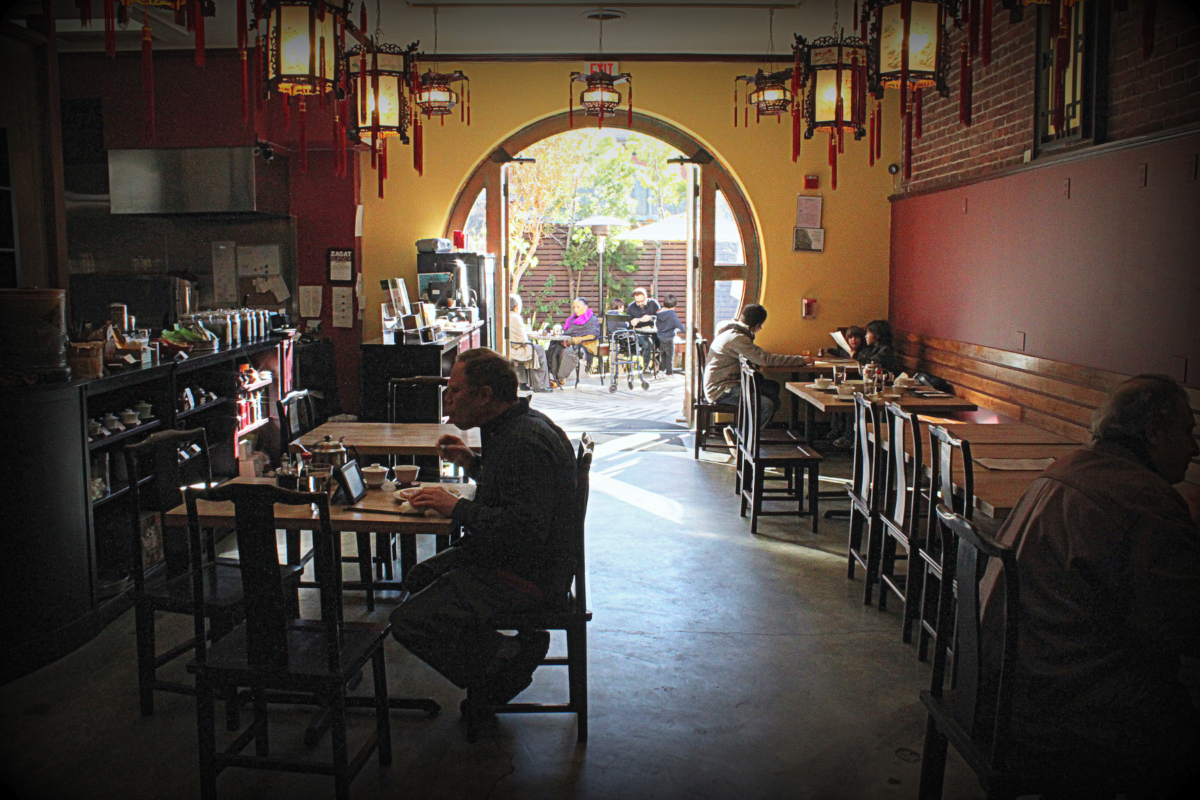 Both locations were flourishing—until COVID-19 hit the Bay Area hard. The San Francisco Imperial Tea Court has re-opened for takeout service only on Fridays and Saturdays. The Berkeley location is now open Tuesdays through Saturdays. Fong doesn't know (nor does anyone) when tea tastings and classes will be able to resume, although he is confident they will at some point.
Fortunately, he said, "mail-order business has doubled," and his big wholesale customers continue to order, although smaller, restaurant clients, also unable to open, for the most part, do not.
Fong has faced other setbacks in his many years developing his business. He spent five years and $1.7 million of his own money developing a tea farm next to his Imperial Court warehouse, cultivating 2,000 seedlings of 20 different varieties of tea. But a catastrophic 2017 fire not only destroyed the warehouse, which contained much of his prized pu'er collection, but all of the carefully nurtured plants. "We were literally a few weeks from putting the tea in the ground," he said.
Despite his own disappointment, Fong believes in the development of America's tea-growing industry, not least because commercialization and climate change are wreaking changes on the Chinese and Indian tea industries. "The impact of pollution is serious," he said. Additionally, he noted, Chinese farms have traditionally never used irrigation, and have depended on the rhythm of the seasons to know when to prune the plants and when to harvest. "This is being shattered by climate change," he said.
"I feel it is just a matter of time before American farmers begin to produce quality teas, using scientific management, similar to what is being done with cannabis growing," he said.
Asked about tea trends, he responded, "The world is much smaller and people are much more willing to try new things." Making the comparison to other products such as wine, olive oil, and chocolate, Fong continued, "Now people want to know which region these things come from… it is just a matter of time before they ask about micro-growers."
He sees continuing consumer sophistication in preparation techniques and familiarity with the types of teaware.
And, like many real experts in many things, Fong is not a snob. He enjoys bubble tea, for example. "There is room for using very good tea for bubble tea," he said. Ultimately, as valuable as extensive knowledge can be about tea, he believes people should continue to drink what they enjoy. "No one should belittle you for liking Earl Grey tea," he said.
On the other hand, it is truly rewarding to expand your palate, as Fong describes doing in this passage about drinking bi luo chun from the new version of his book: "I still remember that silky soft, juicy mouthfeel without any hint of bitterness—a sweetness that slowly but surely filled my mouth and seemed to infuse my whole being. All I could say to myself at that time was a big, inward 'wow!'"
Take a Look Inside the Book: The Great Teas of China