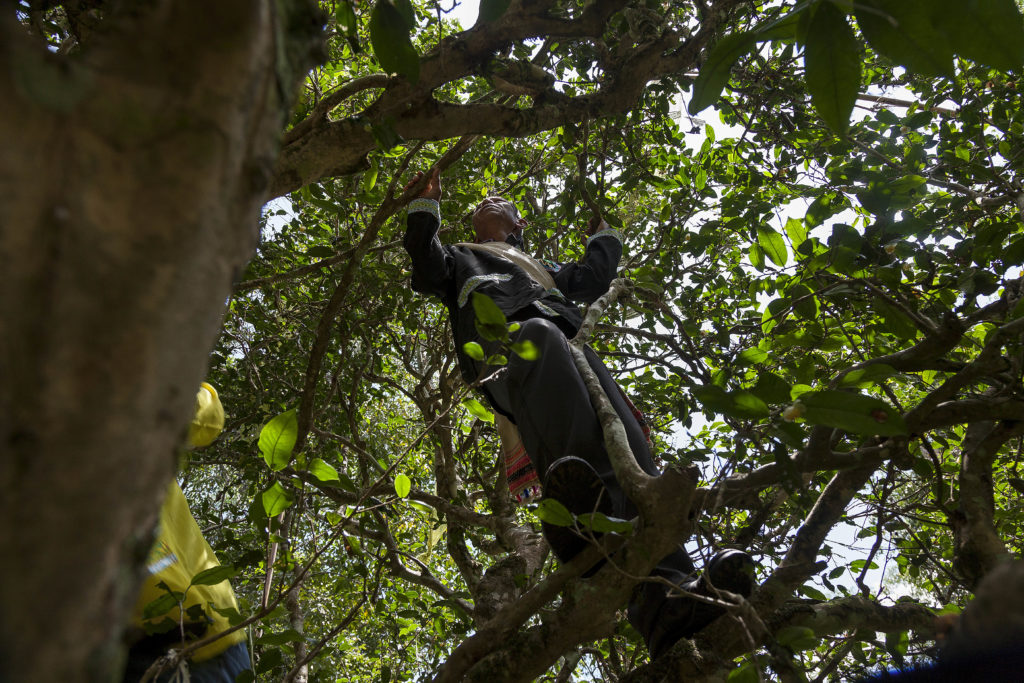 Centuries ago, legend has it, Asian princesses used an essence derived from the green tea leaves grown on the Korean island of Jeju to preserve their ageless beauty.
Turns out, those princesses were definitely on to something. Today's beauty products companies are capitalizing on the super-antioxidant polyphenols found in tea to make both skin and hair care lines.
"Research has established that topical application of green tea leaves or extracts has many benefits for skin, including anti-aging properties," says Matt Malek, director of research and development for 21st Century Research Laboratories, which formulates products for multiple beauty companies, including U.S.-based artnaturals. "The polyphenols in green tea possess potent antioxidant and skin-soothing properties, and show significant promise for improving the appearance of sun-damaged skin," Malek notes. "Green tea also has B vitamins, folate, manganese, potassium, magnesium, and caffeine."
Green is golden

Of all the forms of tea now being used in the skin- and hair-care formulations, green tea has by far the oldest history. Explains Malek, "Green tea, also known as unoxidized tea, is made solely from the leaves of the Camellia Sinensis plant. The leaves are plucked, slightly withered, then immediately cooked to preserve the green quality and prevent oxidization. As a result of these methods, green teas have a much higher concentration of chlorophyll, polyphenols, and antioxidants than other tea types." This includes epigallocatechin-3-gallat, or EGCG, which is naturally present in green tea and is being studied for its multiple health benefits.
For online-only American company artnaturals, Malek's lab formulates both skin and hair care products using green tea, including the company's popular Hair Growth Therapy Conditioner and Neck Firming Cream. "Green tea contains a high amount of antioxidants that promote hair growth," Malek says. "The catechins in it have 5-alpha-reductase-inhibiting properties that help block DHT (dihydrotestosterone), one of the key causes of hair loss."
South Korean company AmorePacific, based on the island of Jeju, was founded in 1945 and has always specialized in skincare products created with their own green tea. Founder Sung-Hwan-Suh researched the benefits of Korean botanicals and invested in agriculture on the island. The company manages a 1,000-acre organic green tea farm that exports to the US, Germany and Asia. Considered the top luxury skincare company in South Korea, its product line includes its Time Response Skin Renewal Serum (1 oz., $525), and Green Tea Seed Treatment Oil (.67 oz, $195).
Soh Cha, based in Japan, creates products using Shizuoka green tea, including a facial soap, a soap specifically for men, a "collagen jelly," and their "Soh-Cha Collage," a set of products including toner, lotion, serum, and cream. (One of the rather distinctive descriptions of the soap for men includes a recommendation to those "beginning to get that old man smell.")
White, black, matcha and mate are trending
Green tea may have been the first, but it's now been joined by multiple other forms of tea in cosmetic formulations.
White tea also carries a royal pedigree. According to tradition, white tea became revered during China's Song Dynasty (960-1279) as the choice of the royal court. White tea leaves and buds, ground into a silvery powder, were whisked in bowls during the Song Tea Ceremony, again, according to Chinese tradition, the inspiration for the Japanese Tea Ceremony.
Explains Malek, "White tea is comprised of new, young tea leaves and buds from the Camellia Sinensis plant and is only harvested for a few weeks each spring in the northern district of Fujian, China. The leaves are generally picked in mid-March to early April and only on days when it is not rainy or humid. White tea can only be called 'white tea' if it comes from the Fujian province. It gets its name from a silvery down that covers the leaves and unopened buds, known as Hao."
American company Origins (owned by Estee Lauder) has produced a line of white tea skincare products for a number of years. The company's materials extol the ingredient as "Believed to extend longevity, White Tea was prized for centuries by emperors in China's famed 'Elixir of Immortality.' " The eight-product "A Perfect World" line is targeted at anti-aging and includes an Antioxidant Moisturizer with White Tea and an Age-Defense Skin Guardian with White Tea.
Origins, known as a bit of a pioneer in the natural skincare market, has also recently launched a line called "RitualiTea," which includes four powdered facial mask and four "body masks" (scrubs) called "Mind Over Mate," "Oolong-La," "Feeling Rosy" (with rooibos tea) and "Matcha Madness." This line also features whisk and bowl add-on options for preparing the facial masks, linking it even closer to the tea ceremony ritual.
Not to be left behind, black tea finds a champion in Boston-based skincare company Fresh. Founded in 1991 by Lev Glazman and Alina Roytberg, Fresh offers the eight-item "Age-Defying Skincare" line that features black tea, including "Black Tea Instant Perfecting Mask" and "Black Tea Firming Corset Cream."
"Tea has a rich history and an even deeper meaning for us because of our Russian heritage, as it is an enormous part of our own culture," according to Glazman and Roytberg. Their black tea line was developed at their own research lab, and formulations include a combination of black tea ferment, or kombucha, and black tea extract, according to company materials.
Franco-Sino luxury line Cha Ling
One of the most significant steps in utilizing tea as a beauty ingredient has been taken by the French luxury house LMVH, through its famed skincare and fragrance line Guerlain. Launched in January this year in Paris, "Cha Ling, L'espirit du the" was developed by Guerlain CEO Laurent Boillot in secrecy over the past three years. The line offers 40 skin and body care items infused with top-grade puer tea grown in the forests of Xishuangbanna.
Boillot visited Yunnan eight years ago to research orchid varieties, and while there, met conservationist Josef Margraf, who with his wife was working on forest conservation in the region. Boillot was inspired to create Cha Ling, with a focus both on formulating top-quality beauty products and saving the forests of Yunnan. He met with the farmers of the region, who are primarily from the Bulang ethnic minority group, both to find the best tea trees, and to support their ancient, ecologically sound practices. The company signed 10-year contracts with two farmers who were harvesting tea from 500-year-old tea trees on sites called Ganggang and Jingmai.
Cha Ling products are infused with puer tea, and Boillot believes in the anti-aging, antioxidant powers of the tea. But beyond the products themselves, the Cha Ling line includes puer tea itself, Yixing teapots, and its own meditation program.
Tea Journey spoke with Cha Ling Director of Development Elodie Sebag.
Tea Journey: There are a number of lines that use green, white or black tea as a component, but is Cha Ling the only line using puer specifically?
Elodie Sebag: Oddly enough, puer tea has not been studied and used in cosmetics before Cha Ling. What we have discovered is that puer tea delivers the same strong antioxidant benefits as green tea, for instance, but offers also complementary, unique anti-aging through regenerating, detoxifying, and anti-pollution power. It is able to fight against key aging mechanisms also as an anti-aging molecule, due to the very unique process of fermentation used only for puer tea. Puer has the very unique ability to transform with time like wine: The older, the better, in terms of taste. Along with this gustative and sensorial transformation appear some new, bigger molecules, which are not present in young and green tea, that have a key action on age.
To offer both antioxidant and anti-aging benefits in our cosmetic line, we decided to select both young, very strong antioxidant Pu' Er tea and aged, anti-aging Pu'Er Tea. This unique blend makes Cha Ling products totally different from any other tea cosmetic products.
The terroir and place of sourcing have tremendous importance in the quality and efficiency of puer tea. After two years of analysis and screening to understand the key parameters influencing the richness and diversity of molecules, LVMH Research & Development has discovered that puer tea efficacy is deeply linked to the origin of production (location, altitude, longitude, richness of the environment in terms of biodiversity, number of harvests, sun, rain). This is how we have carefully selected two terroirs in which we harvest tea. In order to help [the farmers] valorize their incredible production, we have engaged in a bio-certification process with Ecocert, pushing them to answer the certification requirements. We are very proud to say we have been eco-certified.
TJ: According to an article in Jing Daily: "In addition to harvesting the puer tea for cosmetics, the brand is also sponsoring a tea garden project based on Margraf's reforestation plans." How is that progressing?
Sebag: Josef Margraf, the famous German biologist, was engaged in nature preservation in Southeast Asia. He had discovered this incredible place called "The Cradle of Tea"— literally the origin of tea on the planet, in this exceptional Millenary Tea Forest.
Discovering at the same time the heavy destruction caused by deforestation, he had the dream to protect this treasure, as well as help to rebuild it to its original state, a real Tea Forest, rich in biodiversity and untouched by pollution, pesticides or fertilizers.
Laurent Boillot wanted to make this dream come true. This is how and why for three years, the brand has been participating in Josef's wife, Minguo Li Margraf's, Tea Garden Project, even before the brand was born and disclosed to the public.
We are working on 20 hectares of Tea Garden zone, located within the 400-hectare Biodiversity Reserve managed by Minguo Li Margraf. This reserve is in Xishuangbanna, South Yunnan, at an altitude between 1,650 and 1,800 meters, and belongs to the famous Laobangzhang puer tea designation.
Since beginning of the project, we have planted more than 110,000 young tea trees seedlings and 5,000 other vegetal species. The terroir is exceptional as is the tea. But it is still too young to be used in our cosmetic formulations, and we will have to wait at least seven years to be able to harvest the first tea leaves. This is a very ambitious and long-term project.
TJ: What is the goal behind Cha Ling's concept of integrating beauty products with other, wellness-based items and systems?
Sebag: The Cha Ling vision of beauty has to be understood as a whole system, with products, tools, gestures, drinks, ceramics and a meditation program.
Of course, nobody is compelled to drink puer tea when applying and using our cosmetics; however, the system is so powerful when understood in its [totality] that it was obvious to us to propose not only cosmetics but also a whole art of living.
We have been very inspired by traditional Chinese medicine, including key acupressure [points] to help boost products' efficacy. This is how the Cha Ling application methods, as well as the Cha Ling face massaging tool called Gua Sha, have been developed with TCM specialists.
We have [also] discovered Chinese incredible expertise in ceramics, deeply related to tea, and we decided to offer these ceramics to the public. We launched the production of Jingdezhen bone ceramics, engraved with Cha Ling seal, as well as a teapot from Yixing to reproduce the classic puer tea Gong Fu Cha style. It was important for us to discover this Taoist art of preparing tea, very different from the Japanese tea ceremony, to respect the classic cultural tradition of minorities like the Bulang, Aka or Dai people, living and protecting that place for centuries.
We wanted to respect the slow side of tea. Tea is something that needs time, consciousness and conviviality to be appreciated. This unique vision of time as very different from the everyday hyper-connection of women rang a bell for us. As in beauty, time matters. At the end, in order to have results, you need perseverance and steadiness. The quick beauty wins and transformation can happen through surgery—but not through cosmetics.
We propose that women take a little time to take care of their skin, mind and emotions, to enjoy the pleasure of tea and cosmetics, to discover new playful gestures and to be more conscious of what they do. And if they want to add sense to their beauty routine, they know that we share common values to give back to nature.
TJ: Since consumers outside of Asia are becoming more and more familiar with puer tea, do you plan to expand distribution of the line, and if so, when?
Sebag: Cha Ling is only 1 year old, and we are still a very small team. So, for the moment, we want to focus on our two key markets, China and France. We have one boutique in Le Bon Marché, Paris, and one e-commerce website in France, as well as two boutiques in Hong Kong, Harbour City and Hysan malls.
This year we will enter China through Shanghai.
We have met many people interested in puer tea around the world, all connected by common values, but they are still a small group of very high-end connoisseurs.
TJ: Since China continues to insist on animal testing, is your company mounting any push back to this practice?
Sebag: The LVMH Group is strongly committed to eliminating animal testing of cosmetics products everywhere in the world. The LVMH group is one of the rare companies to have invested in its own "in-vitro toxicology" department. This department enables us to perform tests on raw materials and ingredients in-house using alternatives to animals for testing of cosmetics, drawing on the latest scientific research.
In China, where our products are marketed, authorities require that certain imported cosmetics products be tested on animals, considered the best way to guarantee consumer safety. We do not perform these tests, which are done by independent laboratories.
There is a strong engagement and mobilization of various cosmetics companies and associations to work with the Chinese authorities to ensure a change in the Chinese rules on imported products, and the recognition of alternatives to animal testing. We believe that by working with Chinese authorities, we can have more meaningful influence to encourage changes to regulations, ultimately leading to the total elimination of animal testing. It seems that regulation is moving [toward change] recently, which is very promising.
Read Next: Cha Ling's Focus on Pu'er Resonates Globally