A lifelong passion translates to studied precision and expertly crafted teapots
Our three-wheeled moto taxi dropped us off 10 minutes outside the Xishuangbanna city center, a meeting place agreed upon by our taxi driver and So Han Fan, the owner of West China Tea Company. Fan, an avid student of Chinese tea and culture, offered to take my brother and me to meet several people who would become the foundation of my Chinese tea culture education. We spent the following five days exploring the communities and teas of Nannou Mountain. It was there we met Fan's friend, Mary Cotterman, a woman on a personal journey to leave a legacy in tea pottery.
Cotterman was on an adventure to learn the craft of Chinese tea and the teapots that enhance it. She was traveling with Fan, a friend from her hometown of Austin, Texas, and would soon begin an apprenticeship with the masters behind Chaozhou teapots. A year has now passed and Cotterman is ready to bring life to the skills and inspiration she has acquired while navigating the path of Chinese language, culture, and art.
A Passion Born
At a very young age, Cotterman developed a passion for pottery, making pinch pots in the rocky Texas dirt. By age 12, she had her first formal experience with a throwing wheel during a summer camp class. Throughout high school, she continued pursuing her pottery, taking classes at a local pottery studio. In college, she formalized her education by studying art, sculpture, ceramics, and jewelry making. She struggled to find a path through the morass of aesthetic and intellectual theories. Disenchanted by the art world, she took a much-needed break that reintroduced her to pottery in a manner that was personal and meaningful. Pottery is now something she pursues with sincere dedication.
From the beginning, Cotterman was entranced by the process of pottery making. She fell in love with the "wheel turning round and round, the cool, wet mud between my fingers, and the transformation of raw material through such simple means into something useful and meaningful."
To her it felt like magic; like alchemy. Her obsession only grew as she discovered the magic of firing: coating a pot with a chalky dull powder dissolved in liquid and then heating it in the kiln, turning up the flame until the bricks glow orange with heat.
Every time the door of that kiln opens, it's like Christmas morning as a child, Cotterman passionately explains. "Bright as jewels, the pots line the shelves in all the colors you could imagine, smooth and glossy, transformed by fire and time. It feels like reliving the story of the earth itself: dust from the stars collected into mud, pressed into rock to form something entirely new, but still containing the story of what it used to be. Every object in your life made of clay used to be a mountain, which used to be a star," she said.
It's that transformation – the feeling of something vast and immeasurably old contained in something you can hold in your hand – that has always inspired her to work with clay.
A Passion Evolved
Cotterman's enthusiam for the process has not changed, but her passion for the pottery itself has matured into one that contemplates those who use the wares she creates. She came to the conclusion that she didn't want to tell people what her work meant, she wanted them to be able to create meaning for themselves. Her intention is to make something that can come into one's life, be touched, used, broken, repaired, gifted, re-gifted, travelled with and create stories, memories and meaning. Her passion for pottery today revolves around creating objects that are collaborations between the maker and the user.
"I think teapots are the perfect form for this," Cotterman explains. "They are tools for learning through experience, for meditation, for expression, for connection. They become more beautiful as they are used and loved; the tea becomes more delicious. The patina on a pot reflects a thousand pourings, and every chip and crack a story."
Cotterman says the most important thing that clay has taught her, that tea has taught her, is how to be humble and listen.
"Clay is a fickle mistress; you can't tell her what to do, you must ask nicely and listen to what she has to say," she explains. "You must work on her terms, she will not work on yours. If you make demands of her, it's disaster every time."
From her travels through China, she has seen that tea is very much the same way. The tea lover must learn, pour after pour, how each tea likes to be brewed. This lesson has rippled through the rest of Cotterman's life. She now seeks to be present and listen to what the world is telling her instead of barreling ahead. When pots are created in this way, it feels more like something being born than something being made.
Cotterman making tea with her teapot in Chaozhou Gongfu Cha style.
An Unfinished Education
In humility, Cotterman has embarked on one of the most challenging journeys of her life. Her journey to Chaozhou began three years ago when she was introduced to the practice of gongfu cha.
"As a long time tea drinker, potter, meditator and plant enthusiast, it seemed like a miracle that these ostensibly separate loves of mine could be combined into one galvanizing experience," she says.
She practiced making awkward gaiwans and clumsy teapots. It wasn't until she met Fan in Texas that things really started to click. Both were selling their wares – her pottery and him tea – at a friend's backyard Christmas bazaar. The two became fast friends and Fan shared with Cotterman his incredible collection of Chinese teaware. Never before had she seen such beautiful craftsmanship.

Cotterman describes "eggshell thin pots with lids that fit so well they made an air tight seal, from which a graceful arc of tea flowed in the perfect pour."
The most beautiful pots, she says, were from a place called Chaozhou. The two friends would go on to spend many late nights together sitting on the carpet of her studio apartment drinking tea and testing her new teapots modeled after those in Fan's collection.
Finally, after about a year of making teapots on her own, Cotterman decided she needed to go to China to learn from a master. She knew she wanted to go to Chaozhou and, the following spring, she packed up her life in Austin to make the journey. Through sheer luck and the good graces of the locals, she was able to find a studio to work in – a small production studio and school sponsored by successful businessman and master potter, Xie Hua. They were introduced to the studio by a new friend they made after wandering into a dusty antique shop whose shelves were lined with jade, old teapots and Song Dynasty celadon bowls. The shop owner spoke in heavily accented Mandarin and poured Phoenix Wulong so strong and bitter, Cotterman says they were tea drunk after three cups.
"The studio where I work is, to my knowledge, the only place in Chaozhou to learn this traditional craft openly, as traditionally teapot making is a family craft, tightly guarded and only passed down to other members of the family," Cotterman tells. "There's a word in Chinese for this kind of serendipity, it's called yuan fen 缘分."
When Cotterman first moved to Chaozhou, she could speak only a few sentences of Mandarin. Now, with conversational Mandarin skills and the ability to create a traditional teapot from start to finish, she expects to continue to study in Chaozhou until early summer 2016. After this, she plans to travel, do some artists residencies and eventually open a studio in the US. Her hope is to find a clay that is native to America and analogous to the clay used in China to make teapots that are a fusion of East and West.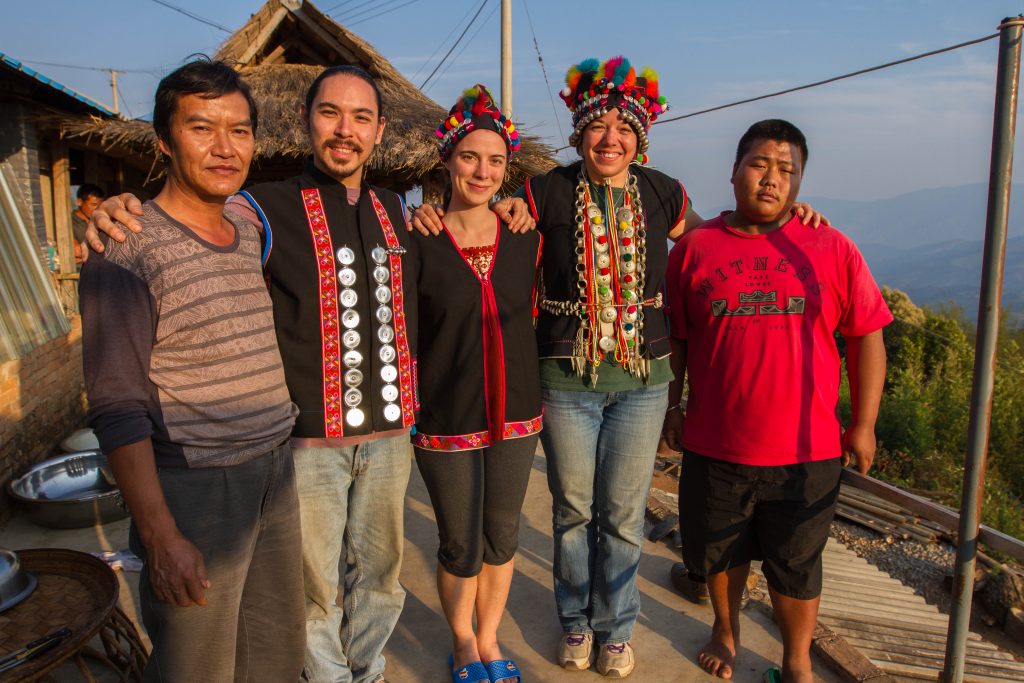 Little did I know on the hot April morning when I met Cotterman that I was meeting someone on such a mission. Her goal as a potter is two-fold: first, to make a living playing in the mud all day, and, second, to make tools of connection. In her creations, she shares the art of connection with other people, with nature and with ourselves. She strives to break down social barriers, and make life just a little more beautiful. In a male dominated field, Mary hopes to inspire and help other women to follow their passions in making pottery. She also would like to share the joy and healing qualities of working with clay. Ultimately, she hopes to leave behind in this world objects that will speak for her after she is gone, that will enrich people's lives, and bring them joy, peace, and connection.